When Performance and Affordability Matter, RaleysPools HELP YOUR Outdoor Space Meet Its Ultimate Elegance
Raley's Pools design, install, maintain, and service all swimming pools and equipment. We provide a variety of inground pools. From standard lap pools to fiberglass, fully customized to luxury free-form pools and vinyl,
we have them all. Our inground pools are designed with you in mind; we want to create a pool that is unique but budget friendly. Choosing a new pool for your home isn't easy, so we've tried to make it simpler.
We offer virtually every type of pool construction and allow you to make an informed decision so that you are happy with the build. We don't push our services onto you and won't pressurize you into selecting a pool that isn't suitable for your specific requirements. You can sit down with our award-winning design consultants and craft a swimming pool ideal for your yard and needs. We don't sugar-coat quotes or represent ourselves in a manner unbecoming of the industry.
Raley's are fair, honest, and upfront because your happiness is our number one priority. When you want to design or install a new swimming pool in Tulsa, Raley's Pools are here for you.
Custom Swimming Pools & Spas Are Our Specialty
Inground swimming pools offer endless hours of joy. Families can enjoy quality time together because pools are the one area people love to be. When you want to add something extra to your property, inground pools can be ideal. You could create a friendly, welcoming, and inviting outdoor space that makes you relax. An inground swimming pool could do the trick. You can even trick the pool out with lots of features, such as waterfalls and lighting. We want you to be happy and love the opportunity to construct your new family pool. Whether you want a fully customized pool with a spa area, or just a standard lap pool, we can help.
We Thrive in Pool Renovations and Remodeling
Simple renovations can change the entire look of your pool and enhance the experience by creating a unique outdoor space. Remodeling and renovation can include altering the depth or shape of the pool, along with creating customized tiles, stone, or brickwork. Other renovation work might include the installation of a waterfall, ornamental fountains, spa replacement, light resurfacing work, and deck repairs.
We can help with all your pool remodeling and renovation projects. Whether it's adding a luxurious spa, swapping dull lights for bright, color-changing LEDs, or applying a new finish, Raley's is the number one choice. We can also help with automation for remote access.
We'll Clean the Pool So You Don't Have to
The pool is the focal point of any home. It's where everyone wants to be and where most spend their time in the summer. If you can't maintain the pool sufficiently, it'll become a nuisance, and you won't want to spend time there. Even the basic pool maintenance task can be exhausting, but with the right assistance, you never have to worry about it.
For all your swimming pool maintenance, Raley's Pools are here to help. Our technicians are experienced pool operators and know how pool maintenance should be handled. We'll do the hard work, so you don't have to.
Raley's Pools Can Help with All Pool Repairs
Repairs are necessary from time-to-time. Fortunately, we can help regardless of the issue. Whether the repair is a minor fault or a major undertaking, we are here to help. Our repairs are fully guaranteed to give you peace of mind. Technicians at Raley's Pools are trained to handle a variety of inground pool repairs. These can include:
The Total Replacement of Pool Liners
Removal Of the Pool Skimmer and Jets
Unclogging The Main Drain
Offering A Water Levelling Service
Maintain The Sand Filtration and Automation Systems
Service Of the Water Heater and Metering Pumps
Inspecting The Salt and Cartridge Filtration Systems
We can also repair pool lines, minor leaks, broken decking area or walkways, and waterfall issues. No job is too small, and we'll even help repair issues with the concrete structure, subsidence, and mechanical faults.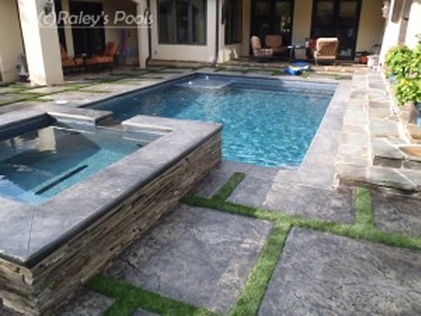 Servicing
At Raley's Pools, we know how important routine servicing is for your swimming pool. Minor faults can be neglected without proper servicing and that could lead to greater issues. Fortunately, we can help with a variety of services, including leak detection, moving the filtration system to another location on the property, and painting concrete pools. We can also assist you in paint removal with our dry sanding or sandblasting services. If you need a pressure test, Clark Pools Collingwood can handle it too.
Feature Installation
There's no doubt how important proper installation is. We at Raleys not only ensure your swimming pool is installed by trained professionals, but we also help with the finishing touches. When you need a backwash line, lighting system, water heater, or water feature installed, we are here for you.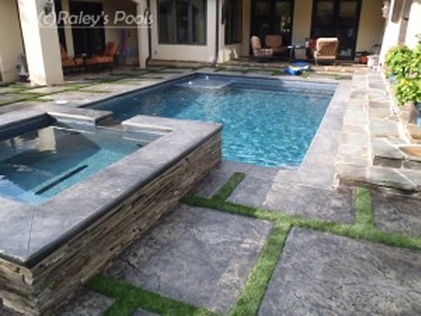 Popular Pool Shapes
Whether you want a uniquely shaped swimming pool or a more traditional one, Raley's Pools offers it all. Remember, the shape of the pool is one of the most important aspects. You want something that is versatile but suitable for your property. Lap pools are nice but when space is limited, you may need something more custom-made for smaller spaces. Popular shapes include the traditional rectangular and square shapes, along with the more unique kidney bean and number 8 shape. Ovals and circles are also popular choices. Our experts will create a unique, one-of-a-kind customized pool to suit your space at home.
Custom Pool Tiles
A pool can be spoiled by one feature – its tiles. Fortunately, there are many popular pool tiles to choose from, including glass mosaic tiles, ceramic, and porcelain. The great thing about pool tiles is that they can be as versatile as you need them to be. They can be specially made for your pool and can offer a beautiful finish as well. We do offer a variety of custom-made tiles. If you have a specific tile in mind or design, tell us and we'll create a suitable piece.
• How to Install Pool Tiles? Installation must be done effectively, otherwise you'll likely see tiles chip or fall away. If you were to install ceramic tiles, for example, you would need to clean and prep the area first. While the old tiles don't necessarily need to be removed, it might be somewhat easier. It all depends on the previous tiles and the ones you're installing now. Once the area is prepped, the mortar can be applied. It will act as glue for the tiles and the grout will secure them once dry. At Raley's, we'll design tiles custom-made for you and install them with no fuss.
Pool Water Features
Water features can finish a pool well. Incorporating these features is smart as it may enhance the entire swimming pool and patio area. There are many types of water features to install, such as cascades, water bowls, ornamental fountains, and waterfalls. We can help you create a stunning showpiece of your yard. We'll help you plan the design of the pool, install it, and help you choose the right water features without spoiling it. Raley's Pools can help plan for waterfalls, natural rock features, new lighting installation, swim-up bars, spillways, and more.
Eco-Friendly is the Name of Our Game
Eco-friendly products are in huge demand. There is no doubt how important it is to be more environmentally friendly, and it often starts in the home. Your swimming pool uses up a lot of energy and water; it creates carbon emissions and impacts the planet. Fortunately, you now have the option of taking an eco-friendlier approach with pool pumps and automatic systems. We offer a range of eco-friendly products and services too, including:
Eco-Friendly Pool Automation Systems and Repairs
Installing an automation system is an ideal way to make labor-intensive tasks easier. You can now automate functions, such as cleaning, filtration, balancing, and sanitization through an automation system. We at Raley's Pools can fully install the system and it'll help save you time, money, and a lot of energy too. If anything goes wrong, we can deal with the necessary repairs to get you back up and running too.
Pool Automation Cleaners for Convenience
It takes time to maintain a pool. It isn't easy, regardless of how large the pool is. Cleaning should be thorough but simple for you. Automatic pool cleaners are the ideal way to make the task easier. Best of all, we can create a fully automated cleaning system so you can control it all with a tap of a button. It isn't just an effective way to clean the pool, but a time-saver too.
Eco-Friendly Pool Pump Installation
Standard pool pumps use up a lot of excess energy because they tend to run on one speed. Variable speed pumps tend to be eco-friendly since minor tasks can be handled at a slower speed setting. This allows for less energy to be consumed and that reduces wastes. That is our goal. We want to be green and do our bit for the planet. Our technicians can install a new environmentally friendly pool pump to make your pool a little greener.
Swimming Pool Opening and Closing
There comes a time when your pool needs to be decommissioned for the fall and winter months. Swimming pool closings are a necessity to help maintain the pool long-term. When it's gale-force winds and snowing outside, you won't use the pool, and must protect it against the elements. We at Raley's can walk you through the process because it's not exactly easy. It must be done properly to avoid bugs getting into the pool's filtration system.
Swimming pool openings are just as important as closings. Getting the pool ready for use after a prolonged absence is difficult. You need to carefully prep the pool and make sure it's clean and safe for use. It's the time to search for damage, check the water levels, and get the chemical balance just right. Fortunately, our technicians can help deal with these things. We'll fully service the pool to ensure it's ready for use.
Whether you want to open or close your pool for the season, Raley's Pools can manage it on your behalf.
Embrace the Feel of Outdoor Living
Outdoor living can be a wonderful extension to your home. You can enjoy the outdoors throughout the year and all the comforts it brings. Designing and installing a custom pool can be simple but effective as it'll add elegance and beauty to your home. A swimming pool can be the place where everyone sits down to relax. You can create a small outdoor dining space overlooking the pool and have a fantastic dinner party setting too. We want you to enjoy spending quality time entertaining guest's poolside, and our skilled architects can help you create a wonderful outdoor living space.