You're looking at popular pool shapes but not sure what's best for your home. It's an important decision to make because your swimming pool is supposed to wow visitors. You want people to walk into your home, see your pool, and be genuinely amazed. Best of all, you can get swimming pools in almost any shape or size. It's fantastic – however – it can also present a few issues when you're trying to pick one. So, what are the most popular pool shapes to consider, and which should you choose?
The Freeform Swimming Pool
Freeform is probably one of the most versatile and popular pool types you can choose today. This type of pool will work for any home and any space. It is fully customizable, so you can create a freeform pool to your specific artistic design. Freeform pools can be created to whatever shape works best for your home. For instance, if you have a smaller yard, you could get a freeform swimming pool that fits your specific dimensions, even if it's an odd shape.
Usually, freeform pools tend to be curvier in design, but it can look great. These are unique in every sense and something you don't see too often. If you want something a little more unusual, freeform swimming pool shapes are ideal.
A Stylish Rectangular Pool
Freeform pools feature the sorts of random curves you find in nature.
While rectangular-shaped pools are probably the most common (and popular) shapes, they are also one of the best. Rectangular pools are simple but effective and can fit into most spaces with ease. You can't go too wrong with a rectangle swimming pool; it's useful for most families and quite stylish too. You can use the pool for lounging around, taking a leisurely swim, doing laps, sports, and more. Of course, you might not be overly convinced about these shaped pools; however, they can be quite stylish with modern twists. For instance, you could create a little square section for spa features. They do work well.
The Circular or Round Swimming Pool
Oval pools offer elegant looks, while still being practical for everyday use.
Circles, round, and oval swimming pools are a popular pool shape you'll find today. These pools work great for large outdoor areas and yards. You can create a real oasis in your backyard with a circular or round swimming pool. There are lots of accessories to add to your pool area, such as a small waterfall, and can make a treasured feature of your home too. While oval swimming pools are a little less conventional, it's a popular choice for many households, nonetheless.
The L-Shaped Swimming Pool
L-shaped pools are divided into two sections or "legs," which opens up a lot of design options.
When you want a unique and somewhat interesting design, you should consider the L-shaped pool. As you might have guessed, this pool is shaped like the letter L, in capital form. These shaped pools are ideal if you need a swimming pool for relaxing and doing short laps. It's like a 2-in-1 because you can do so much with this pool. You'll find the L-shaped swimming pool is unique but also ideal for many cramped yards. If you don't have a lot of room at home for a pool, the L-shaped can offer a useful alternative, to say the least.
The Figure 8 Pool and Kidney Swimming Pool Shapes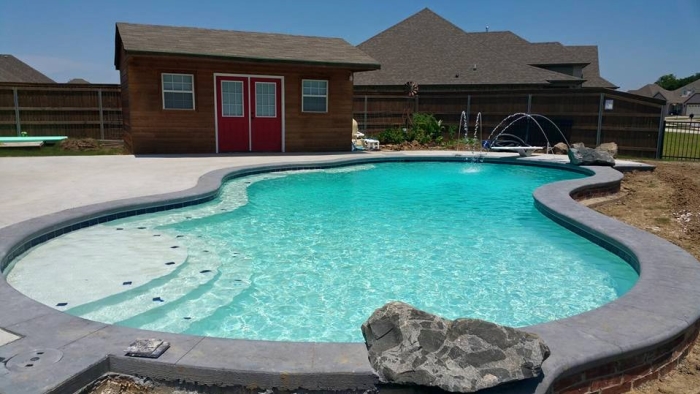 A figure 8 pool is essentially a more symmetrical version of a kidney shaped pool.
Figure 8 or kidney-shaped pools might not be as conventional as you'd think; however, they do make great pool designs. These are different designs, and the shapes are so unique that you can love how they look. So, think about the figure 8; you'd get a pool that has a narrow mid-section and rounded at the two ends, creating the illusion of a figure 8. These pools can look beautiful and allows you to relax and enjoy your time in the water. The curvy pool also helps to circulate water more effectively, which you can enjoy too. With kidney-shaped swimming pools, the water flows amazingly well and are quite popular also.
The Classic Grecian and Roman Swimming Pool Shapes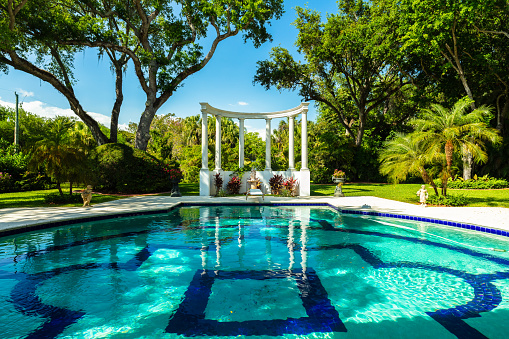 Roman shaped pools often have sharp corners and rounded ends.
Roman and Grecian are among the most popular pool shapes of today. These shapes are more on the traditional side; however, they remain as popular as ever. Grecian and Roman shaped swimming pools have been around for many years. Designs date back to architecture of the Roman and Greek periods and look truly spectacular. You can create a unique but elegantly designed pool with a Greek or Roman-inspired pool shape. Usually, these shapes are formed from a rectangular shape with various modifications and angles towards each end of the pool. While these tend to be more classical shapes, they offer beauty on all fronts.
If you were to choose a Grecian-inspired pool shape, you'd get a rectangular pool with angled corners. Usually, you'd get a 90-degree corner. Whereas a Roman-inspired swimming pool are rectangular in shape with rounded ends. Both pools are popular; however, Romans tend to attract more buyers. You also have the option of buying a half Roman swimming pool; this is like the traditional Roman pool but comes with one round end instead.
The Custom Geometric Swimming Pool Shapes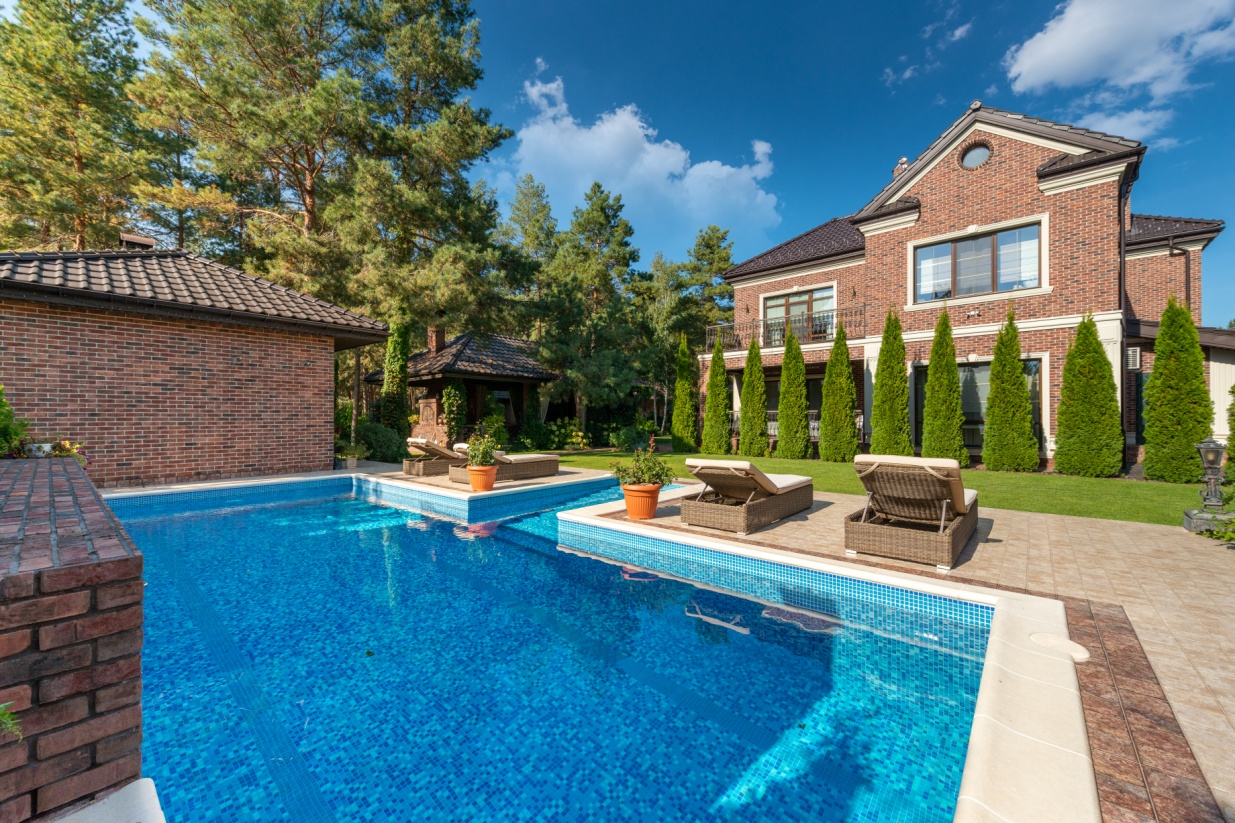 Custom Geometric Pools provide a modern, contemporary pool design.
Custom geometric-shaped pools have become an ideal solution as they can be made to your specific requirements. You can create any shape, usually within a geometric pattern. Custom geometric-shaped swimming pools are great if you want to have a unique pool area. This is certainly a popular choice, especially since it can work for most yards and outdoor spaces. Whether you have a lot of room to play with or otherwise, these customized geometric-shaped pools are fantastic.
Choosing the Best Swimming Pool Shape
It is essential to think about what you like, want, and need in a swimming pool. For example, you have a relatively large backyard. You want an area for the kids to safely play on and have a corner of the yard for the pool. So, you should consider something that is a little more space and family-friendly, such as the traditional rectangular or oval-shaped pools. Of course, it depends on your specific needs. It does help if you look at a variety of shapes to see what stands out best to you.
Find a Fantastic Pool for Your Home
Swimming pools come in all shapes, sizes, and forms; however, it can be a little overwhelming to choose between them all. There are pools shaped like guitars, others like footballs – and more in-between. Custom pools are also a fantastic option and can be great if you can't decide on a particular shape or want something completely different. Just remember, you want a pool that suits your specific requirements and needs. You could look at the most popular pool shape to get a few ideas; however, it does come down to what you like best.